Australien: Politiker "erschießt" im Wahlkampf Konkurrenten
Kommentare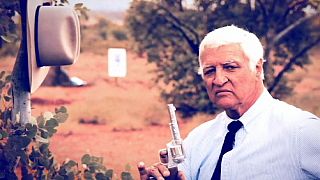 Der nationalkonservative australische Parlamentarier Bob Katter hat für einen Wahlwerbespot viel Kritik geerntet. In dem Film sind zunächst zwei Männer zu sehen, die für die konservative Liberal Party und die linksliberale Labor Party stehen.
Danach wird Bob Katter gezeigt, wie er Rauch von einem Revolver bläst. Er hat seine Konkurrenten offenbar erschossen, wie aus der Totalen ersichtlich wird: Dort liegen die beiden anfangs gezeigten Männer regungslos auf dem Boden.
---
Katters Wahlvideo
---
Das Video rief gerade wegen des Massakers in Orlando heftige Kritik hervor.
Katter, Chef von Katter's Australian Party, rechtfertigte sich mit dem Argument, er habe von der Schießerei nichts mitbekommen. Er schaue kein Fernsehen und lese schon seit Ewigkeiten keine Zeitungen mehr.
Bob Katter, federal MP paid $200k to make decisions about our country, does not read papers or watch the news pic.twitter.com/53TDCn4Smu

— Josh Butler (@JoshButler) 15. Juni 2016
Statt dessen deutete er an, das Video sei lustig gemeint. Seinen Kritikern und den Medien warf er "political correctness" und Humorlosigkeit vor.
Anfang Juli finden in Australien vorgezogene Neuwahlen statt.
---
Comedian thomas_violence</a> gives Bob Katter some &#39;Hot tips for how not to run a political ad&#39; <a href="https://t.co/UqXiQDQ8ir">https://t.co/UqXiQDQ8ir</a> <a href="https://t.co/y53NmDmMfR">pic.twitter.com/y53NmDmMfR</a></p>&mdash; SBS Comedy (SBSComedy) 16. Juni 2016
---
Is Bob Katter really shooting people for having different beliefs and ideals to him? Oh, great…

— Adrian Shuter (AdrianShuter) <a href="https://twitter.com/AdrianShuter/status/742931113111347200">15. Juni 2016</a></blockquote> <script async src="//platform.twitter.com/widgets.js" charset="utf-8"></script> <hr> <blockquote class="twitter-tweet" data-lang="de"><p lang="en" dir="ltr">Notoriously anti-gay Bob Katter can&#39;t understand why you&#39;re uppity about a video where he murders people a day after 50 gays were murdered.</p>&mdash; Leslie Nassar (leslienassar) 15. Juni 2016
Auftritt Katters in der Sendung Sunrise des Senders Channel 7