Fliegen und dreckige Zelte: 100 Mio-Dollar-Klage gegen das Fyre Festival
Kommentare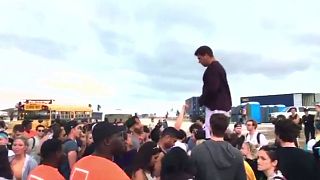 Das Fyre Festival auf den Bahamas sollte eigentlich ein sehr cooles Musik-Event für Jungmillionäre und andere werden, die mindestens 3.000 Euro für ein Ticket bezahlt hatten.
Doch es kamen zu viele Leute. Die Organisatoren waren völlig überlastet. Statt Luxus und Bier gab es Fliegen und dreckige Zelte.
Die offizielle Entschuldigung der Tourismusbehörde der Bahamas hat wohl kaum etwas an der Wut der Betroffenen geändert.
Der Rapper Ja Rule und sein Finanzpartner, die das Festival organisiert haben, sehen sich jetzt mit einer 100-Millionen-Dollar-Klage konfrontiert.
Auf Twitter gibt es ein Extra-Konto mit dem Namen "Fyre Fraud", auf dem Fotos und Videos der Insel gepostet wurden.
Early report is that many of the tents aren't assembled. Here's their tropical private island owned by Escobar! #FyreFestivalpic.twitter.com/TNzBDbNAUJ

— FyreFestivalFraud (@FyreFraud) April 27, 2017
Ein Foto des angebotenen Essens wurde tausendfach geteilt.
The dinner that fyrefestival</a> promised us was catered by Steven Starr is literally bread, cheese, and salad with dressing. <a href="https://twitter.com/hashtag/fyrefestival?src=hash">#fyrefestival</a> <a href="https://t.co/I8d0UlSNbd">pic.twitter.com/I8d0UlSNbd</a></p>&mdash; Tr3vor (trev4president) April 28, 2017
Der User, der das Essen gepostet hat, ist aber offenbar trotzdem geblieben.
To anyone following me to stay up to date on Fyre Festival. It's not as bad as it sounds on social media. Just super unorganized.

— Tr3vor (@trev4president) April 28, 2017
Einige Medien vergleichen das Fyre Festival mit den "Hunger Games".
The Fyre Festival has been hit with a $100 million lawsuit that likens the event to the "Hunger Games" https://t.co/nO7rtQNu2Ipic.twitter.com/BxJMsY7wHG

— The Boston Globe (@BostonGlobe) May 1, 2017
Oder dem "Herr der Fliegen".
The Fyre Festival Ja Rule was hyping up looks like a mashup between the Hunger Games and Lord of the Flies: https://t.co/1K88Bicz4upic.twitter.com/WEu9hwx2cB

— The Root (@TheRoot) April 30, 2017