Solar Impulse Testflug: die Reise kann weiter gehen
Kommentare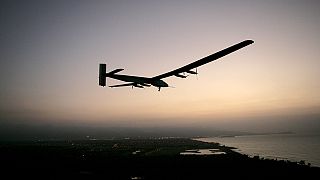 Die Solar Impulse fliegt wieder, über ein halbes Jahr war der Rekordflieger auf Hawai am Boden. Nach dem erfolgreichen Testflug rückt jetzt der Weiterflug nach Phoenix / Arizona in greifbare Nähe; die Fortsetzung einer Reise über zwei Ozeane, vier Kontinente und rund 35.000 Kilometer.
I am more scared to live in a world dependent on fossil fuels, than to attempt a solar flight around the world #RTWpic.twitter.com/KLObLN9BMy

— Bertrand

PICCARD

(@bertrandpiccard) August 27, 2015
In Abu Dhabi gestartet, flogen die beiden Chefentwickler und Piloten des Projekts, Bertrand Piccard und André Borschberg in acht Etappen nach Hawai. Die Solar Impulse hatte im Juli 2015 einen Rekord aufgestellt, als sie in 118 Stunden oder fünf Tagen Non-Stop fast 8300 Kilometer von Japan nach Hawaii geflogen war. Allerdings überhitzten dabei die Batterien und wurden beschädigt. Die Solar Impulse wurde neun Monate auf Hawaii gelagert, repariert und gewartet, jetzt ist der Flieger mit neuer Stabilisierungs- und Batterietechnik ausgestattet und wieder startklar.
Solar Impulse 2 has completed its first test flight following a battery system upgrade. https://t.co/G2b3kg3icipic.twitter.com/RQVwXcfSs5

— Aviation Week (@AviationWeek) March 1, 2016