Ryder Cup: Clarke soll Europa zum Sieg führen
Kommentare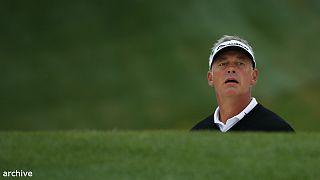 Der Nordire Darren Clarke wird Kapitän der europäischen Golfer im Ryder Cup im kommenden Jahr. Das hat das zuständige Gremium des Team Europa entschieden. Europa ist Titelverteidiger und hat den Wettkampf zuletzt drei Mal in Folge gewonnen.
Der 46-Jährige spielte den Wettkampf selbst fünf Mal. Vier Mal konnte er mit der europäischen Auswahl gewinnen. Außerdem war er zweimal als Vize-Kapitän dabei. Nach der Entscheidung für ihn als Kapitän bedankte er sich auf Twitter:
Thank you all so much for your support and best wishes for RC Captain..means a lot to me I'm honoured and humbled at the same time.Thank you

— Darren Clarke (@DarrenClarke60) February 18, 2015
Der nächste Ryder Cup findet im Herbst 2016 im Hazeltine National Golf Club in Minnesota statt. Wer Clarkes Widerpart wird, steht offiziell noch nicht fest. Die USA stellen ihren Kapitän in der nächsten Woche vor.