Tage vor der Wahl: Solides Jobwachstum in den USA
Kommentare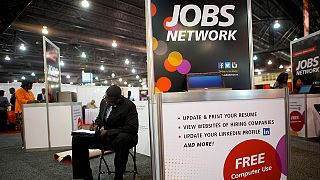 Wie wird im US-Wahlkampf um Jobs gestritten – der Republikaner Donald Trump will 25 Millionen im kommenden Jahrzehnt schaffen, oder besser gesagt zurückholen aus Niedriglohnländern. Konkurrentin Hillary Clinton setzt auf anspruchsvolle Fertigung.
TRUMPCAMPAIGN: 'Disastrous jobs report underscores the total failures of the Obama-Clinton economy' https://t.co/tODjFaBrvrpic.twitter.com/YTI2tiPNpd

— The new US policy (@ThenewUSpolicy1) 4. November 2016
realDonaldTrump</a> Bill Clinton raised the minimum wage, grew manufacturing jobs, Donald Trump trickle-down economics put us in debt <a href="https://t.co/GuxcUdBZNX">pic.twitter.com/GuxcUdBZNX</a></p>&mdash; William House (WilliamABHouse) 2. Oktober 2016
Und nun die Wirklichkeit: 161.000 entstanden im Oktober außerhalb der Landwirtschaft, gut 3 Prozent mehr Jobs als im September (156.000). Arbeitslosenquote minus ein Zehntel, 4,9 Prozent. Und: Löhne und Gehälter stiegen im Oktober so stark wie seit sieben Jahren nicht: 2,8 Prozent binnen Jahresfrist. In diesem Jahr kamen durchschnittlich 178.000 Arbeitsplätze pro Monat dazu, nach einem durchschnittlichen Zuwachs von 229.000 pro Monat im Jahr 2015.
US employers add solid 161K jobs; unemployment rate dips to 4.9%. https://t.co/lMIDnOqiP7pic.twitter.com/35eky0rtKx

— AP Interactive (@AP_Interactive) 4. November 2016
"Das ist ein guter Job Report", so Anleihe-Fondsmanager Bill Gross, Portfolio Manager, Janus Capital Group, Newport Beach, California.
"Das sollte locker den Kriterien der Fed für weitere Fortschritte auf dem Arbeitsmarkt gerecht werden, was uns im Dezember eine Zinserhöhung bescheren dürfte", sagte Harm Bandholz, leitender U.S.-Ökonom bei UniCredit Research in New York.
Laut Zentralbank-Chefin Janet Yellen reichen knapp 100.000 neue Jobs im Monat aus, um mit dem Wachstum der Bevölkerung im erwerbsfähigen Alter mitzuhalten.
Wirtschaftswissenschaftler ("Reuters") sehen wenig Einfluss des Reports auf einen zunehmend verbitterten und spaltenden Wahlkampf.
su mit Reuters