Royal Bank of Scotland versucht empörte Aktionäre ruhigzustellen
Kommentare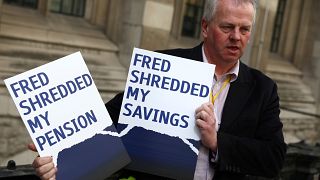 Die Royal Bank of Scotland (RBS) versucht laut Insidern ("Reuters"), sich in letzter Minute mit einer Gruppe von Anlegern zu einigen. Sie wollen in einer In einer Zivilklage klären lassen, ob die Krisenbank sie bei einer Kapitalerhöhung 2008 irregeführt hat. Sie fordern rund 4,7 Milliarden Euro Schadenersatz.
A High Court trial involvingRoyal Bank of Scotland and itsconductin the financialcrisishas been delayedhttps://t.co/71uWFNBcYXpic.twitter.com/dK4QBfOXVW

— Financial Times (@FT) 22. Mai 2017
Mit fast 9 von 10 (87 Prozent) Anlegern hat sich die Bank bereits geeinigt, 9.000 Einzelaktionäre und 20 Institutionelle blieben bisher stur.
Royal Bank of Scotland: a timelineof eventshttps://t.co/KDFhKHvWi3

— The Guardian (@guardian) 22. Mai 2017
Die größte Kapitalerhöhung einer europäischen Bank über 14 Milliarden Euro war 2008 gefloppt. Die Bank musste bald darauf für 53 Milliarden Euro vom Staat gerettet werden. Er hält heute mehr als 70 Prozent der RBS-Anteile.
su mit Reuters