Gedenken an Weltkriegsopfer in England und Frankreich
Kommentare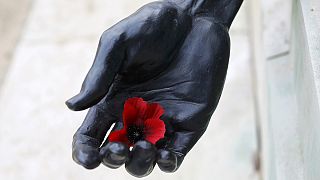 In Frankreich, Großbritannien und anderen Nationen ist des Endes des Ersten Weltkriegs gedacht worden. In Paris legte Frankreichs Staatspräsident François Hollande einen Kranz am Grab des unbekannten Soldaten nieder.
FRANCE- HOLLANDEGREETSVETERANS- VO WED0086- President lays wreath at Arc de Triomphe to commemorate Armistice Day pic.twitter.com/ptlBPPC798

—

CBS

Newspath (@cbsnewspath) November 11, 2015
In Erinnerung an die Unterzeichnung des Waffenstillstandsvertrags zwischen dem damaligen Deutschen Reich und den Alliierten am 11.11.1918 wurden bei den Gedenkveranstaltungen um elf Uhr Schweigeminuten abgehalten.
End of 1st World War: The armistice was signed inside a railway wagon in a forest near Paris on November 11th 1918. pic.twitter.com/pyZx2dhBAI

— Don Sancho Dávila (@Juancorreillo) November 11, 2015
Im Ersten Weltkrieg waren nach unterschiedlichen Schätzungen zwischen 1914 und 1918 mehr als zehn MiIlionen Soldaten und Zivilisten getötet worden.
Auch in London und anderen englischen Städten versammelten sich zahlreiche Menschen zum Gedenken an die Weltkriegsopfer.
Prinzessin Anne legte bei einer Zeremonie im mittelenglischen Staffordshire einen Kranz im Nationalen Baumgarten nieder.
Poignant scenes in London's Trafalgar Square for the #ArmisticeDay two minute silence. pic.twitter.com/AFphHRMNSw

—

ITV

(@ITV) November 11, 2015