Bombenalarm in Air France-Boeing 777: Verdächtiger verhaftet
Kommentare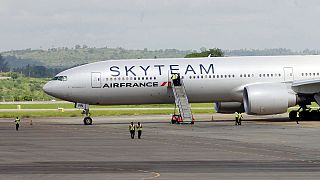 Nach dem Bombenalarm auf einem Air-France-Flug über Ostafrika ist jetzt in Paris ein Mann verhaftet worden. Nach Angaben des französischen Fernsehsenders BFM TV soll es sich um einen ehemaligen Polizisten handeln.
The prosecutors gave no details about the man taken into custody, though BFM TV said he was a former police of… https://t.co/ID636iNBXr

— Amaresh Singh (@AmareshRajput) 21. Dezember 2015
Ein Passagier hatte auf der Toilette des Flugzeugs ein verdächtiges Teil aus Karton mit einem Timer gefunden. Das Flugzeug war daraufhin in Kenia notgelandet, allerdings stellte sich das Fundstück als harmlos heraus. Alle 459 Passagiere, die von der Insel Mauritius nach Paris wollten, wurden am Tag danach mit einer anderen Boeing 777 in die französische Hauptstadt gebracht.
Vol Air France dérouté : un policier du Raid impliqué ? Europe 1 BFM TV le Point https://t.co/bMq8SeW1Lw

— ChristineFEUILLEBOIS (@ChFeuillebois) 21. Dezember 2015