EU will neue Iran-Sanktionen diskutieren
Kommentare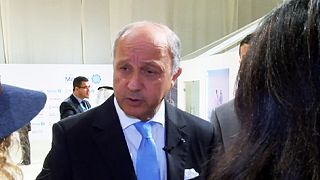 Die Europäische Union will noch in dieser Woche über neue Sanktionen gegen Iran ähnlich derer der USA diskutieren.
Wir wünschen uns politische Entspannung in der Region
France's Fabius says EU to discuss if new Iran sanctions needed: By Maha El Dahan ABUDHABI (Reuters) – The Eu… https://t.co/lcj9HyvKjl

— In Government (@ingovernment) January 18, 2016
Das kündigte der französische Außenminister Laurent Fabius bei einem Besuch in Abu Dhabi an. Zunächst müsste dazu das amerikanische System der Sanktionierungen mit dem europäischen verglichen werden, sagte Fabius:
"Wir wünschen uns politische Entspannung in der Region, das ist aktuell nicht der Fall. Wir werden Zeugen einer kritischen Konfliktsituation zwischen Iran, Saudi-Arabien und anderen Ländern. Jetzt hoffen wir, dass sich die positiven Einflüsse des Atomabkommens auf andere Problemfelder auswirken werden. Im Moment geschieht das noch nicht."
France wants to de-escalate Saudi-Iran tensions: Fabius https://t.co/XAQjDvoX3x

— Reuters World (@ReutersWorld) January 18, 2016
Fabius ergänzte, die Aufhebung der internationalen Iran-Sanktionen sei "eine wichtige Etappe für den Frieden und die Sicherheit sowie für die internationalen Bemühungen zur Bekämpfung der
Verbreitung von Atomwaffen."
Der iranische Präsident Hassan Rouhani wird in der kommenden Woche zu Gesprächen in Paris erwartet.