Mehrere Tote durch Hochwasser in Bolivien
Kommentare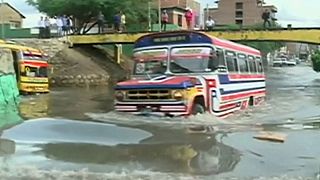 In Bolivien sind mindestens acht Menschen durch Fluten nach heftigen Regenfällen ums Leben gekommen. Für fünf Bezirke im Westen des Landes wurde Hochwasseralarm ausgerufen. Etliche Straßen standen unter Wasser. Zahlreiche Gebäude und Fahrzeuge wurden beschädigt oder zerstört.
Floods kill at least eight in Bolivia https://t.co/2I2w9alukCpic.twitter.com/01W1FAJETC

— Recent Second (@RecentSecond) December 28, 2016
50% of municipalities in #Bolivia have been harshly affected by droughts. 8K+ people are receiving WFP vouchers → https://t.co/klzfWzvA8dpic.twitter.com/OQd0VbPVrv

— World Food Programme (@WFP) December 27, 2016
Die tagelangen heftigen Regenfälle folgten auf die schlimmste Dürre in Bolivien seit 25 Jahren. Noch Anfang Dezember waren mehrere Millionen Bolivianer von Wasserknappheit und der Rationierung von Trinkwasser betroffen. Es kam zu Protesten gegen die Regierung. Nach Regierungsangaben war 2016 das heißeste Jahr in dem Andenstaat seit 100 Jahren.