Donald Trump will über umstrittenes 'Racial Profiling' nachdenken
Kommentare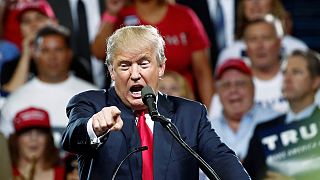 Der voraussichtliche republikanische US-Präsidentschaftskandidat Donald Trump hat sich für das umstrittene 'Racial Profiling' ausgesprochen.
Dabei werden Menschen aufgrund ihrer Hautfarbe, Religion, Nationalität oder ethnischer Herkunft als verdächtig eingestuft.
Bürgerrechtler kritisieren das Verfahren als diskrimierend.
Er hasse 'Racial Profiling' aber der Staat müsse es in Erwägung ziehen. Das Verfahren werde erfolgreich in Israel und anderen Staaten angewendet, führte Trump an.
Donald Trump renews his call for the U.S. to consider racial profiling to stop terrorists https://t.co/H0QxV5gXCapic.twitter.com/0bA9Tg1BpV

— The New York Times (@nytimes) June 19, 2016
Nach dem Massaker in Orlando hatte Trump erneut einen vorübergehenden Einreisestopp für Muslime in die USA gefordert.