All Blacks gewinnen Auftaktpartie der Rugby Championship
Kommentare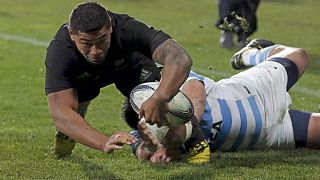 Die All Blacks gewinnen gegen Argentinien mit 39:18 in der Auftaktpartie der Rugby Championships. Der überzeugende Sieg des Weltmeisters schien dabei nie in Gefahr zu sein.
.AllBlacks</a> beat <a href="https://twitter.com/unionargentina">unionargentina 39-18 as they look to defend #TRC title with both teams continue #RWC2015 prep pic.twitter.com/E3QfU8WE6v

— World Rugby (@WorldRugby) 17. Juli 2015
Nach zwei All Blacks Versuchen in der ersten Hälfte, folgten drei weitere in der zweiten Hälfte, in der allerdings auch die Argentinier den Weg über die gegnerische Linie fanden.
Der 37. Heimsieg der All Blacks in Folge zeugt von der Dominanz des Weltmeisters auf heimischen Boden und war eine klare Leistungssteigerung gegenüber dem vorherigen Spiel in Samoa.
In der nächsten Begegnung der Rugby Championships trifft Australien auf Südafrika.