Barca Fan Kobe Bryant trifft den FC Barcelona
Kommentare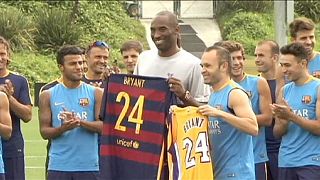 Basketball Star Kobe Bryant besucht die Fußballmannschaft des FC Barcelona. Der Guard der Los Angeles Lakers tauschte Trikots mit dem Kapitän der Katalanen Andres Iniesta.
Kobe Bryant visits with AndresIniesta8</a> and <a href="https://twitter.com/FCBarcelona">FCBarcelona in LA: http://t.co/snghCfDo0Vpic.twitter.com/rsRJ5hd4Oj

— KobeTeam.com (@KobeTeam24) 20. Juli 2015
Das spanische Team ist derzeit zu Gast in Kalifornien. In Pasadena bestreitet Barca den Champions-Cup und trifft auf das Major League Soccer Team Los Angeles Galaxy.
Der spanische Meister und Championsleague-Sieger trifft anschließend in Santa Clara auf Manchester United und den FC Chelsea. Am 2.August kehrt das Team nach Europa zurück und spielt in Florenz.