NBA: Indiana Pacers gewinnen Traditionsduell gegen Boston
Kommentare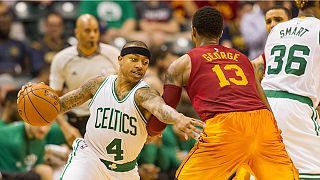 Die Indiana Pacers gewinnen das Traditionsduell gegen die Boston Celtics mit 103:98. In einem hart umkämpften Spiel auf Augenhöhe wechselte die Führung 15 Mal, zwölf Mal stand das Spiel unentschieden.
PG-13 led the Pacers</a> over the <a href="https://twitter.com/celtics">celtics in a key East clash.

HIGHLIGHTS: https://t.co/0km2VUZluhpic.twitter.com/1OX07ceuVZ

—

NBA

TV (@NBATV) 16. März 2016
20:20 endete das erste Viertel, zur Halbzeit gingen die Pacers mit 43:39 in Führung. Beim Stand von 77:77 setzten sich die Pacers ab, Boston schaffte es nicht mehr heranzukommen und musste die nächste Niederlage hinnehmen.
Sieben Minuten vor Schluss stand es noch unentschieden, doch das Team aus Indiana hatte die besseren Nerven.
Bester Werfer der Pacers war Paul George mit 25. Punkten. Isaiah Thomas gelangen 21 Punkte für Boston.