Champions League: Manchester City gewinnt in Kiev - Eindhoven und Athletico Madrid trennen sich torlos
Kommentare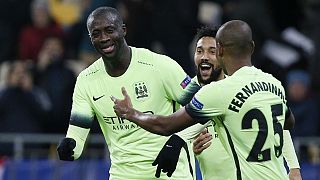 Im fünften Anlauf will Manchester City endlich den Sprung ins Viertelfinale der Champions League schaffen. Die Citizens gewannen gegen Dynamo Kiew mit 1:3.
FT #DynamoKiev 1-3 #MCFC

City take control of tie with 3-1 first-leg win.

Report: https://t.co/R07qHMgIGVpic.twitter.com/oerxn6HAN9

—

ESPN

UK (@ESPNUK) 24. Februar 2016
Der zukünftige Club von Pep Guardiola war trotz millionenschwerer Investitionen in den letzten Jahren nie über das Achtelfinale hinausgekommen.
Sergio Aguero bringt die Gäste in der 15. Spielminute in Führung. David Silva erhöht zum 2:0 für City. Buyalskyi gelingt in der 59. Minute der Anschlußtreffer. Yaja Toure zum 1:3 in der 90. Minute.
Im zweiten Spiel des Tages trennen sich Eindhoven und Athletico Madrid mit 0:0 Unentschieden. Für die Niederländer nicht die schlechteste Ausgangsposition für das Rückspiel am 15.03 in Madrid.