Windelfirma in Venezuela nach Produktionsstopp besetzt
Kommentare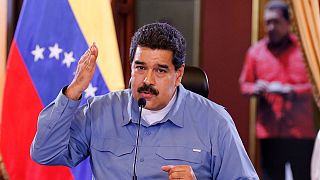 Venezuelas Staatspräsident Nicolás Maduro hat die Besetzung einer Fabrik für Hygieneartikel des US-Konzerns Kimberly Clark angeordnet. Das Unternehmen in Maracay 120 Kilometer westlich der Hauptstadt Caracas hatte wegen des Mangels an Grundstoffen durch die Finanzkrise die Produktion von Toilettenpapier und monatlich mehrerer Dutzend Milionen Windeln einstellen müssen. In der Fabrik arbeiten 1200 Menschen, denen ein Verdienstausfall bis hin zum Arbeitsplatzverlust drohte.
Offenbar muss für den Windelkauf in Venezuela eine Geburtsurkunde vorgelegt werden
Diapers about to get even harder to find in Venezuela. Already, you need a baby's birth certificate to buy them https://t.co/hgSKPoUv1f

— Hannah Dreier (@hannahdreier) July 10, 2016
Venezuela leidet seit Monaten unter einer dramatischen Versorgungskrise, gerade auch im Lebensmittelbereich. Die Opposition will Präsident Maduro mit einem Referendum noch 2016 abwählen lassen, er hat im Gegenzug die Rechte des Parlaments eingeschränkt und per Dekret verfügt, dass das Militär Sondermaßnahmen zur Bekämpfung der Versorgungskrise ergreifen kann.