Nach Mord an Demonstranten in Charlotte: Schwarzer verhaftet
Kommentare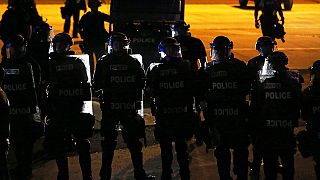 Wegen der tödlichen Schüsse auf eine Demonstration in Charlotte im US-Bundesstaat North Carolina ist am Freitagmorgen (Ortszeit) ein 21-jähriger Schwarzer festgenommen worden. Er wurde noch am Vormittag wegen des Mordes an einem 26-jährigen Demonstranten angeklagt. Dem Mann war am Mittwoch während einer Demonstration gegen die Tötung eines Schwarzen durch einen Polizisten in den Kopf geschossen worden. Er erlag einen Tag später seinen Verletzungen.
The curfew will be in effect each day until the end of the State of Emergency is declared or until the official proclamation is revoked.

— City of Charlotte (@CLTgov) 23. September 2016
In Charlotte kommt es seit Tagen zu Protesten gegen die tödlichen Polizeischüsse auf den Schwarzen. Nach gewalttätigen Ausschreitungen hatte die Bürgermeisterin am Donnerstagabend eine Ausgangssperre verhängt, die um Mitternacht in Kraft trat und um 6.00 Uhr morgens endete.
Mehr zum Thema