London: "Professor Snape" 69-jährig verstorben
Kommentare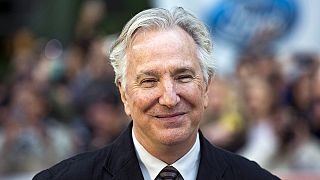 Er gehörte zu den profiliertesten britischen Schauspielern seiner Generation und flanierte für Blockbuster wie "Harry Potter" und "Stirb langsam" über die roten Teppiche.
Es ist nicht in Worten auszudrücken
Alan Rickman ist nach übereinstimmenden Berichten im Alter von 69 Jahren in London an den Folgen von Krebs gestorben.
RIP Alan Rickman. OG of British cinema. pic.twitter.com/QpsEPSc4uw

— Complex UK (@complex_uk) January 14, 2016
Ob als Bösewicht "Professor Severus Snape" oder als Darsteller der "Royal Shakespeare Company": Regisseure priesen Rickman für seine Vielseitigkeit.
Alan Rickman, star of everything he appeared in, has died of cancer. https://t.co/NupZmsbPCipic.twitter.com/Gh3HSLSYsc

— Gawker (@Gawker) January 14, 2016
Kleiner Trost für Fans: Noch in diesem Jahr kommt ein letzter Film mit Rickman ins Kino: Der britische Thriller "Eye in the Sky".
Watch: Alan Rickman's last onscreen appearance in Eye in the Sky: Alan Rickman will make his last on-screen pe… https://t.co/a4k6RDn2rP

—

NEWSONSCOTLAND

(@NewsOnScotland) January 14, 2016
Die "Harry Potter"-Autorin J.K. Rowling trauert um den Schauspieler Alan Rickman: "Es ist nicht in Worten auszudrücken, wie schockiert und am Boden zerstört ich bin, von Alan Rickmans Tod zu hören".
There are no words to express how shocked and devastated I am to hear of Alan Rickman's death. He was a magnificent actor & a wonderful man.

— J.K. Rowling (@jk_rowling) January 14, 2016