"Reactions" - Bei facebook wird es emotional
Kommentare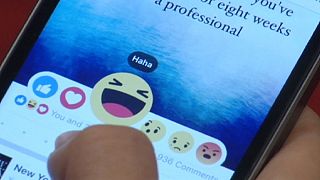 Facebook hat seine Nutzer mit einer neuen Funktion beschenkt. Ab sofort ist es möglich, auf Einträge mit Emotionen zu reagieren: Der bisherige "Gefällt mir"-Button wurde um Emoticons für Liebe, Trauer, Wut, Lachen und Verwunderung erweitert. "Reactions" nennt der US-Internetriese seine neue Emotionspalette:
"Wir reagieren damit auf Rückmeldungen der Leute, die uns immer wieder gesagt haben, dass sie sich mehr Möglichkeiten wünschen, ihre Emotionen auszudrücken. Denn Menschen teilen die unterschiedlichsten Dinge", erklärte Julie Zhuo, die bei facebook für das Produktdesign verantwortlich ist.
Datenschützer warnen, dass facebook durch die neue Funktion noch mehr und genauere Daten als bisher über seine Nutzer sammeln könnte. Vor allem für Werbekunden ist die neue Entwicklung interessant.
Die facebook-Gemeinde freut sich weitestgehend – einziger Kritikpunkt: Den "Gefällt mir nicht"-Button gibt es immer noch nicht.
.facebook</a> launches "Reactions" today. It&#39;s no "dislike" button, but it&#39;s one step closer <a href="https://t.co/LsmgHPVogZ">https://t.co/LsmgHPVogZ</a> <a href="https://t.co/iOAMVHBzOZ">pic.twitter.com/iOAMVHBzOZ</a></p>&mdash; BuzzFeed News (BuzzFeedNews) February 24, 2016
Facebook Reactions: how to make the most of six emoji https://t.co/g8K8OGQuywpic.twitter.com/F6eWNN5aSk

— The Verge (@verge) February 24, 2016
Die Diskussion um die neue Funktion verleiteten einige Twitter-Nutzer zu sarkastischen Beiträgen. Jason etwa, wünscht sich nur den einen Emoji: Einen der Augen rollen kann.
Here are the Facebook emoji reactions we actually need https://t.co/ktJogej1A1pic.twitter.com/ewCEVr08qG

— Jason O. Gilbert (@gilbertjasono) February 24, 2016