Telefonzellensterben in London gestoppt
Kommentare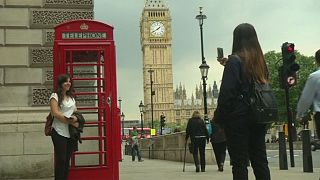 London gehört zu den teuersten Städten der Welt, wenn es um Immobilien geht. Ein eigenes Büro aber kann sich dort bald jeder leisten; eine Start-up-Firma aus Amerika will über 20 ausrangierte Telefonzellen zu kleinen Arbeitsplätzen umwandeln. Seit der Einführung der Mobiltelefone gerieten viele Boxen ins Abseits und verkamen, bis die britische Telecom vor ein paar Jahren auf die Idee kam, die sympathischen Kultkästen zu verkaufen und ihnen somit zu einem Comeback verhalf. 
Die neuen Besitzer hauchten den roten Zellen neues Leben ein. Es entstanden Mini-Bibliotheken, winzige Kunstgalerien, 1-Mann-Pubs. Je skurriler, desto besser.
Final day of phonebox salads today, some corkers on the menu (see https://t.co/SWfesrWaRh… https://t.co/5C4qFpXQzbpic.twitter.com/CsOmuCpern

— Spier's Salads (@SpiersSalads) 7. September 2016
Smallest office in #Cambridge set to open….but in a phonebox! https://t.co/OEtE0Ob0Bbpic.twitter.com/LbQuiEJmN9

— Cambridge News (@CambridgeNewsUK) 17. September 2016
Das amerikanische Unternehmen plant über 20 Telefonkabinen in Kurzzeit-Büros umzuwandeln. Dafür wird jede Box mit einem Schreibtisch, Sessel, Bildschirm, Drucker, Scanner, Akkuladegerät und einem Heißgetränkeautomat ausgestattet. Über eine App kann sich so jeder Arbeitswillige für 20 Pfund im Monat Zugang zu seinem neuen Arbeitsplatz verschaffen. Das Angebot richtet sich vor allem an sogenannte Coffeeshop-Worker, die oft stundenlang vor ihrem Laptop im Café hocken. Der Dienst verspricht seinen Kunden mehr Privatsphäre,Konzentrationsfähigkeit und Effizienz.
So #mum and me found this #library in a #phonebox in my #parents#village . #bookbank#photography#youtuber#vlogg… pic.twitter.com/Vq6nZO9gbN

— Nicholas Jankovic (@JustRelaxMore) 1. September 2016
A great reuse of a K6 kiosk, wonderful coffee too, thanks Umar KapeBarako2016</a> <a href="https://twitter.com/hashtag/redtelephonebox?src=hash">#redtelephonebox</a> <a href="https://twitter.com/hashtag/phonebox?src=hash">#phonebox</a> <a href="https://twitter.com/hashtag/Hampstead?src=hash">#Hampstead</a> <a href="https://t.co/SoCAgyaBHv">pic.twitter.com/SoCAgyaBHv</a></p>&mdash; Andy Sutton (960sutton) 7. September 2016
All very British today! #Bala#steamrailway#british#travelphotography#phoneboxpic.twitter.com/5F7ZbsscXd

— Hayley (@HayleyChall1) 1. September 2016
Cultural re-purposing of a decommissioned phonebox in Settle, N. Yorks. Not the Uffizi or the Guggenheim but… pic.twitter.com/taF5kPz1E3

— Christopher Graham (@grumpychris2) 6. August 2016