Nach der US-Wahl: Twitter versucht's jetzt mit Humor und lacht mit Joe Biden
Kommentare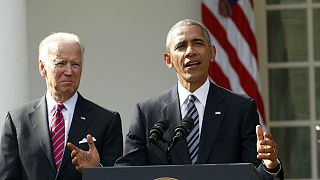 Nicht nur enttäuschte Wähler aus dem Hillary-Clinton-Lager – viele Twitter-User aus aller Welt teilen in den sozialen Netzwerken Scherze, in denen US-Präsident Barack Obama und der lachende US-Vizepräsident Joe Biden vorkommen. #Bidenmeme ist der Hashtag dieser Tage.
Einige Tweets sind tausendfach geteilt worden, wie der mit der Videoreaktion des Vizepräsidenten auf die Wahl von Donald Trump: Der Politiker aus einer katholischen Familie in Pennsylvania bekreuzigt sich.
Obama: Trump is our next President.

Biden: pic.twitter.com/TgTLH8X1Ul

— ℬrandon (@Jus1Nyt) 9. November 2016
Sehr beliebt ist die Unterhaltung, in der Biden – der schon mit Donald Trumps Vize Mike Pence zusammengetroffen ist – sagt, er wolle den Republikanern nicht den WLAN-Code fürs Weiße Haus geben. Diesen Witz gibt es in verschiedenen Tweet-Varianten.
Biden: I'm not giving them the wifi password Obama: Joe… Biden: I said what I said pic.twitter.com/Pa7yqMVk09

— Ghetto Translations (@UrbanEngIish) 13. November 2016
Obama: Anything else? Biden: No. Obama: … Biden: I changed the WiFi password to ILoveMexicans pic.twitter.com/ENk0RtqLg7

— ivy (@baby1vy) 13. November 2016
In einem Tweet will Biden bei den Protesten mitmachen – und lässt sich nur dadurch davon abhalten, dass Obama ihm ein Eis verspricht.
Biden: I wanna join the protest.
Obama: Joe, we've been over this.
Biden: But they're—
Obama: How about some ice cream?
.
.
.
Biden: Okay. pic.twitter.com/JTQDkeWfnn

— David Jenkins (@scriptdave) 10. November 2016
In diesem Bidenmeme hat er Trump im Bad eingesperrt…
Biden: I locked him in the bathroom, run!

Obama: Joe! You can't…Give me the keys! Joe!

Joe: WHEEEE!#bidenmeme#Election2016pic.twitter.com/nKQn27kChM

— Megan K. (@3KidsNoJoke) 13. November 2016
Statt zu packen, macht Biden lieber ein Flipagram der vergangenen acht Jahre.
This is my favorite #bidenmeme because it's adorable pic.twitter.com/SVNuNtZfPT

— TimbO'Tree (@joshuetree) 12. November 2016
Der 73-jährige Joe Biden ist bekannt dafür, dass er gerne Scherze macht und manchmal auch zuviel lacht.