Dresscode-Diplomatie? Die First Lady der USA erregt auf der Asienreise Aufsehen durch ihre besonderen Kleider.
Melania Trump setzt auf ihrer Asien-Reise ganz besondere modische Akzente. In jedem Land überrascht die 47-Jährige mit ganz bewusst ausgewählten Kleidern und Mänteln.
Auf Reisen wird die First Lady der USA auf Schritt und Tritt genau beobachtet.
In China trägt sie mehrere Kleider mit ganz besonderen Mustern, Perlen und Stickereien mit Blättern, Blumen und Drachen.
Beim Treffen mit Schülern in Japan erscheint die Präsidentengattin im hochgeschlossenen und umhangartig verarbeiteteten marineblauen Dior-Kleid – das €3.000 gekostet haben sich, dazu – schließlich ist Melania ein Ex-Model! – High-Heels von Manolo Blahnik €500.
Auch in Südkorea ist der Stil der First Lady asiatisch angehaucht. Sehen Sie selbst. Wir haben einige der am meisten auf Twitter und in den sozialen Medien geteilten Fotos für Sie zusammengestellt.
Die chinesische Agentur twittert das Foto der beiden First Ladies.
#XiJinping's wife Peng Liyuan, U.S. First Lady Melania Trump visit elementary school in Beijing. They join the students' English, astronomy classes, watch their Peking Opera performance FLOTUS</a> <a href="https://t.co/dSzrmdWybJ">pic.twitter.com/dSzrmdWybJ</a></p>— China Xinhua News (XHNews) 9. November 2017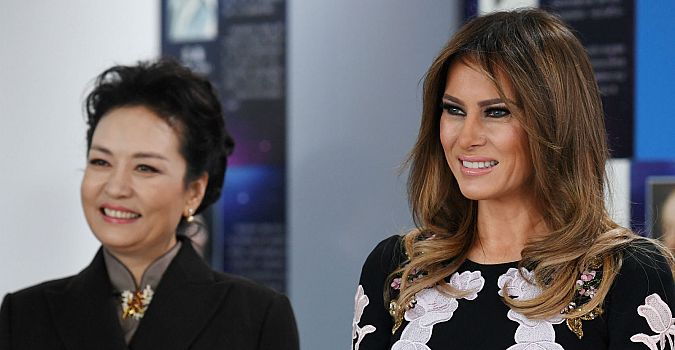 Sehr speziell in China: das Kleid mit den rosa Manschetten.
Trump's Mandarin-speaking grand daughter made an video appearance at China state dinner while #MelaniaTrump played the part in a chinese inspired printed dress. Love the pink manchettes! pic.twitter.com/2b1Zl4GAJk

— Dressing4Power (@Dressing4Power) 9. November 2017
In der verbotenen Stadt.
?? ?? Power and history: Chinese President Xi stands with US President Trump at the Forbidden City in Beijing ? JimWatson_AFP</a> <a href="https://t.co/3A1Df9zNcr">pic.twitter.com/3A1Df9zNcr</a></p>— AFP Photo (AFPphoto) 8. November 2017
Als @Flotus hat Melania Trump natürlich ein Twitter-Konto – sie veröffentlichte auch diese Fotos.
Thank you for wonderful welcome President Moon & First Lady Kim and people of Republic of Korea ?? pic.twitter.com/37p1WF53Lv

— Melania Trump (@FLOTUS) 8. November 2017
Wonderful visit w Mrs. Abe today! Enjoyed conversation over tea & the cultural presentation on the history of pearls. #FLOTUSinAsiapic.twitter.com/g7Oax90SbN

— Melania Trump (@FLOTUS) 5. November 2017
Und sie teilte einen CNN-Artikel.
#FLOTUSinAsiahttps://t.co/7qJksffxdH

— Melania Trump (@FLOTUS) 6. November 2017
Der Burgunder-farbene Mantel findet viel Gefallen.
Melania Wears Kind-Of-Out-There Burgundy Coat In South Korea. People Go Totally Crazy [PHOTOS]https://t.co/WTl4K1RNMd#MAGA#FLOTUS#Patriots#Covfefepic.twitter.com/cKkwlM2wU4

— lindahill (@denudedmedia) 7. November 2017
Dieser Mantel wurde auch kritisiert…
President Trump & the First Lady are on their way to the Republic of Korea for the third stop of #POTUSinAsia. More: https://t.co/6upHZjK2L4pic.twitter.com/fWj01oQT60

— The White House (@WhiteHouse) 7. November 2017
Follow President Trump and the First Lady's trip to Asia in photos: https://t.co/2EdlNGZPYw#POTUSinAsiapic.twitter.com/50GwMvU2Qf

— The White House (@WhiteHouse) 5. November 2017
Abendgarderobe in Seoul hochgeschlossen.
Melania Trump shows off ample bosom in see-through dress with husband Donald in South Korea https://t.co/OOpjIjWr5Lpic.twitter.com/ITd6ADEz4G

— Daily Express (@Daily_Express) 7. November 2017
Tagsüber – in Schwarz.
Keep up with #POTUSinAsia: https://t.co/6upHZjK2L4pic.twitter.com/9lbZLivMPM

— The White House (@WhiteHouse) 7. November 2017
Treffen mit einem Popstar in Japan…
Imagine meeting Donald Trumps wife but instead you see Minho at the corner pic.twitter.com/mu7s9Dx3Ed

— Issy #CLAP (@jintagyu) 7. November 2017
Auf Hawaii im weißen Kleid.
Donald and Melania #Trump visit the USS Arizona Memorial at #PearlHarbor in Hawaii ahead of Asia trip pic.twitter.com/5m5CoFjkEx

—

CGTN

(@CGTNOfficial) 4. November 2017