54 Jahre nach dem Crash: Bergsteiger entdecken Flugzeugwrack mit verunglückter Fußballmannschaft
Kommentare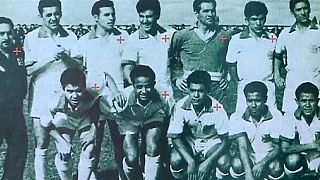 Ein grausiger Fund könnte den Abschluss einer tragischen Geschichte bedeuten: Bergsteiger haben in den chilenischen Anden offenbar das Wrack eines Flugzeugs entdeckt, das 54 Jahre lang verschollen war.
This could be the wreckage of a plane that went missing in Chile 54 years ago http://t.co/uYMfwLdOhKpic.twitter.com/EJr8trOdKo

— The Independent (@Independent) 9. Februar 2015
Ebenso lange ist auch das Schicksal der 24 Insassen ein Rätsel. Unter den Passagieren waren auch acht Spieler der ehemaligen chilenischen Fußball-Mannschaft Green Cross.
A famous missing Chilean plane has been found 54 years after its crash http://t.co/IrJUzt4d7Y#Chile#historypic.twitter.com/IfUuEZmTFW

— Pangea Today (@PangeaToday) 8. Februar 2015
Das Wrack liegt auf 3200 Metern Höhe. Rund um die Absturzstelle wurden auch menschliche Knochen entdeckt.