Donald Trump will Konservativen Mike Pence als Vize
Kommentare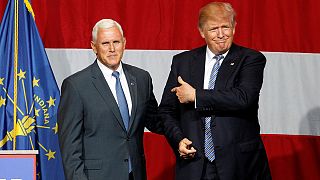 Donald Trump hat seinen Kandidaten für das Amt des US-Vizepräsidenten bestätigt. Als seinen potentiellen Stellvertreter präsentierte er nun den Gouverneur von Indiana, Mike Pence. Eigentlich wollte er die Nominierung an diesem Freitag verkünden. Wegen des Attentats in Nizza verschob er die Bekanntgabe, bei der er gemeinsam mit Pence vor die Presse treten will, auf Samstag. Das schrieb er auf Twitter.
I am pleased to announce that I have chosen Governor Mike Pence as my Vice Presidential running mate. News conference tomorrow at 11:00 A.M.

— Donald J. Trump (@realDonaldTrump) 15. Juli 2016
Honored to join realDonaldTrump</a> and work to make America great again. <a href="https://t.co/J8esm9LU6g">https://t.co/J8esm9LU6g</a></p>&mdash; Mike Pence (mike_pence) 15. Juli 2016
Auch Pence meldete sich auf Twitter. Er fühle sich geehrt, ließ er wissen. Der Republikaner Pence ist streng konservativ, bei Evangelikalen und Sozialkonservativen kann er auf breite Unterstützung zählen. Früher war er Radiomoderator, für die Präsidentschaftsrennen 2012 und 2016 dachte er selbst an eine Kandidatur.