Hamburger Blitzstart beim Sydney Hobart Race
Kommentare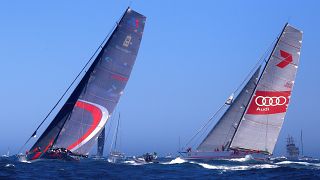 Am zweiten Weihnachtstag sind in Australien 88 Segel-Yachten auf den 628 Seemeilen langen Kurs von der ehemaligen Olympia-Metropole Sydney nach Hobart auf Tasmanien gestartet.
In der 72. Auflage des Sydney Hobart Race lag nach den ersten zehn Stunden bei idealen Windbedingungen die australische Favoritin "Wild Oats XI" in Führung.
The fleet are on their way! Who have you picked to get over the line first in Hobart? And who will win overall? #RolexSydneyHobartpic.twitter.com/FA8ESoCdOe

— Rolex Sydney Hobart (@rshyr) December 26, 2016
Ein Blitzstart war der Hamburger "Varuna VI" von Jens Kellinghusen gelungen. Mit Chancen auf den Sieg nach berechneter Zeit und den begehrten Tattersall's Cup lag die 14-köpfige Crew zunächst auf Platz zehn.
Das Sydney Hobart Race zählt zu den bekanntesten Langstrecken-Yachtrennen der Welt und wird traditionell am "Boxing Day", dem zweiten Weihnachstag in Australien gestartet. Die schnellsten Yachten werden am Dienstag im Ziel bei Hobart erwartet.