Red Bull King of the Air 2017: Nick Jacobsen gewinnt in Südafrika
Kommentare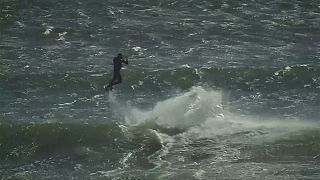 Der Däne Nick Jacobsen ist Red Bull King of the Air 2017. Der Profi Kitesurfer gewann den Wettbewerb in Big Bay in Südafrika.
Rund 8000 Zuschauer bejubelten den Dänen, der seit einigen Jahren immer wieder zeigt, dass es beim Kitesurfen keine Grenzen gibt. 2015 sprang der 29-Jährige vom 33 Meter hohen Mast eines Volvo Ocean Race-Bootes.
In diesem Jahr konnte er den Prestige-Wettbewerb der weltbesten Kitesurfer zum ersten Mal gewinnen.
NEWS: #NickJacobsen crowned Red Bull #KingOfTheAir at pinnacle competition in #kiteboarding > for press https://t.co/1iDPD9G3Cv#bigairpic.twitter.com/BX753U4TVg

— RedBullContentPool (@RBContentPool) 3. Februar 2017