US Open: Spiel, Satz und Sensationssieg - Stephens
Kommentare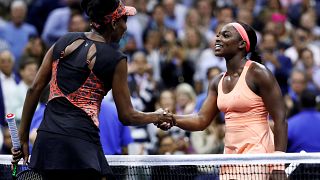 Die ungesetzte 24-jährige Amerikanerin Sloane Stephens hat bei den US Open überraschend das Halbfinale gegen ihre 13 Jahre ältere Landsfrau Venus Williams gewonnen. Durch das 6:1, 0:6 und 7:5 erreichte Stephens das Endspiel gegen Madison Keys, die ihrerseits CoCo Vandeweghe ausschaltete. Trotz einer Oberschenkel-Verletzung setzte sich Keys im zweiten rein amerikanischen Semifinale noch glatt mit 6:1 und 6:2 durch.
Für Keys als auch Stephens ist es das erste Grand-Slam-Endspiel ihrer Karriere. Das bislang einzige Duell der in Florida lebenden Freundinnen entschied Stephens 2015 in Miami für sich.
Die letzte US-Open-Gewinnerin aus dem Gastgeberland, die nicht mit Nachnamen Williams hieß, war Lindsay Davenport im Jahr 1998. Sie trainiert jetzt die Weltranglisten-16. Keys.
Sloane Stephens started the month of August ranked 957th.

A month and a couple days later she'll be playing in her first US Open final. pic.twitter.com/Bu32Kc4gS2

— SportsCenter (@SportsCenter) September 8, 2017
Stephens kehrte nach einer Fußverletzung erst im Juli beim Turnier in Wimbledon nach elf Monaten Turnierpause zurück.
A reminder: five months ago, Sloane Stephens couldn't walk.

Now she's running like this. #usopen

— Ben Rothenberg (@BenRothenberg) September 8, 2017
Es ist das erste rein amerikanische Damen-Endspiel in Flushing Meadows seit 15 Jahren.
And then there were 2!

The match is set: No. 15 Madison Keys will take on Sloane Stephens in the 1st all-American #USOpen final since 2002. pic.twitter.com/lZ0RhjNM87

— espnW (@espnW) September 8, 2017
Less than six weeks ago, Sloane Stephens was ranked 957th in the world.

She just beat Venus Williams to reach her first US Open Final! pic.twitter.com/XbZGsHlCsm

— SB Nation (@SBNation) September 8, 2017