Karikaturisten zur Flüchtlingsproblematik
Kommentare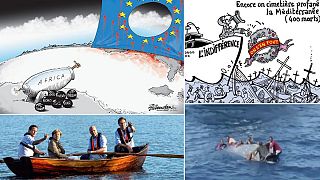 Das Flüchtlingsproblem hat weltweit in den Medien Reaktionen ausgelöst. Karikaturisten und Hilfsorganisationen haben Zeichnungen und Filme zu dem Thema veröffentlicht. Hier sind einige Beispiele:
'Amnesty International'
"Ich habe das Gefühl, denen ist das egal" steht bei einem Film, der europäische Regierungschefs in einem Ruderboot zeigt.
Our governments are spending money patrolling borders when they could be saving refugees and migrants' lives. EU leaders have power to change this. Make them care: http://bit.ly/FortressEurope

Posted by Amnesty International on Wednesday, April 15, 2015
RT Dontexisteurope</a>: EU leaders: Act Now to Save Migrants and Refugees Lives! <a href="https://twitter.com/hashtag/EUsummit?src=hash">#EUsummit</a> <a href="https://twitter.com/EU2013LT">EU2013LTpic.twitter.com/zeckU90n1I

— Amnesty Vlaanderen (@amnestyvl) octubre 24, 2013
Aus Frankreich: Karikaturist Plantu von der Zeitung 'Le Monde'
"Ist uns scheißegal" steht auf dem Kranz.
#Lampedusa : Migrants lost in waves!,… A Cartoon by plantu</a> <a href="http://t.co/sgTHrScjxM">pic.twitter.com/sgTHrScjxM</a></p>&mdash; Ali Kheradpir (AliKheradpir) abril 19, 2015
Aus Großbritannien: Karikaturist Peter Brookes von der Zeitung 'The Times'
In dieser Karikatur werden die Flüchtlinge mit dem italienischen Stiefel getreten.
My cartoon on Friday TheTimes</a> on the EU&#39;s shameful attitude to migrants sailing from N Africa. <a href="http://t.co/Xut9GbYEgd">pic.twitter.com/Xut9GbYEgd</a></p>&mdash; Peter Brookes (BrookesTimes) abril 17, 2015
Aus Italien: Der Fernsehsender Rai hat diesen Film produziert
Aus Spanien: Karikaturist Ricardo von 'El Mundo'
"Die EU macht Urlaub."
El naufragio europeo, una vez más http://t.co/q2exonOY2j Por barahmikail</a> investigador de <a href="https://twitter.com/FRIDE">FRIDE (Viñeta: Ricardo) pic.twitter.com/4ySz8KCjic

— EL

MUNDO

(@elmundoes) abril 21, 2015
Regierungschefs in einem Boot
abril 21, 2015
Verschiedene Karikaturisten im Web
#Cartoon Movement – WHYSEALEVELSARERISINGhttp://t.co/EwP1DQ59To#migrants#migrationpic.twitter.com/Ka7fCk61EU

— Klaas Brecht (@KlaasBrecht) abril 20, 2015
Cartoon Movement – The immigration problem and the EU http://t.co/ygOKt1Fr3Z#migrants#migrationpic.twitter.com/1EE66ysthq

— Klaas Brecht (@KlaasBrecht) abril 20, 2015
Aus Südafrika von Karikaturist Brandan E. Reynolds
Er zeichnet für verschiedene südafrikanische Zeitungen.
Yet another boatload of desperate illegal migrants in search of a better life goes down… Business Day cartoon,… http://t.co/l8UGpVKRcW

— Brandan E. Reynolds (@brandanrey) abril 21, 2015