Irrflug beendet: Raumfrachter Progress verglüht über Pazifik
Kommentare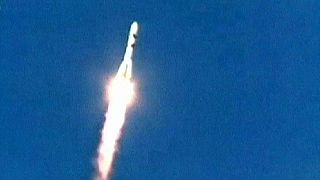 Der außer Kontrolle geratene russische Raumfrachter Progress M-27M ist nach seinem Irrflug im All in die Erdatmosphäre eingedrungen und über dem Pazifischen Ozean verglüht.
Das bestätigte die russische Raumfahrtbehörde Roskosmos am Freitagmorgen.
Nach seinem Fehlstart vom kasachischen Weltraumbahnhof Baikonur Ende April war der Frachter nicht wie geplant zur Internationalen Raumstation ISS geflogen, sondern in immer engeren Bahnen um die Erde gekreist.
It's looking like the failed #Progress will come down tonight, somewhere over the Pacific: http://t.co/gVdwa1Osf3pic.twitter.com/f6tBeEZLk1

— Miriam Kramer (@mirikramer) May 7, 2015
Mehrere Wissenschaftler hatten bereits vorausgesagt, dass der sieben Tonnen schwere Progress fast vollständig verglühen würde.
An Bord waren rund 2,4 Tonnen Nachschub wie Lebensmittel und Ttreibstoff für die sechsköpfige Besatzung der ISS.
Die Panne hat vermutlich auch Auswirkungen auf weitere Flüge ins All.
Roskosmos gab bereits bekannt, Russland werde den für den 26. Mai geplanten Start einer bemannten
Mission zur ISS wohl um mehrere Wochen verschieben.