Singapur: Smog durch Waldbrände in Indonesien
Kommentare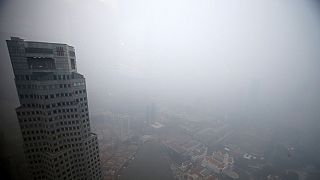 Singapur leidet unter einer dichten Dunstglocke, hervorgerufen durch sich ausweitende Waldbrände in Indonesien.
Ältere, schwache und chronisch kranke Menschen wurden von der Gesundheitsbehörde aufgerufen, zuhause zu bleiben.
Fastfoodketten in Singapur stellten den Lieferservice ein
McDonald's, KFC & Pizza Hut suspend delivery service due to worsening #SGhazehttp://t.co/jz4dR54nAepic.twitter.com/YkiZnhhmAO

— The Straits Times (@STcom) 24 Septembre 2015
In Indonesien mussten wegen der wahrscheinlich durch illegale Rodung verursachten Waldbrände Schulen geschlossen und Flüge gestrichen werden.