Israel: Schimon Peres nach Herzproblemen in Klinik
Kommentare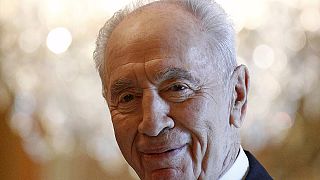 Israels früherer Staatspräsident Schimon Peres ist nach Herz-Kreislauf-Problemen in einer Klinik bei Tel Aviv behandelt worden. Nach Angaben seines Arztes und Schwiegersohnes Rafi Waldan hatte der 92-Jährige zuvor über Brustschmerzen geklagt. Daraufhin habe man ihn umgehend ins Krankenhaus gebracht. Dort sei Peres sofort mit einem Herzkatheter behandelt worden.
Auch Peres' Sprecher bestätigte, der frühere Staatspräsident sei wegen Herzproblemen behandelt worden und sein Zustand sei stabil. Peres werde nach dem Eingriff noch zur Beobachtung im Krankenhaus bleiben.
Die Agentur AP sprach von einem leichten Herzinfarkt
Spokeswoman for Israel's former president Shimon Peres says he has been rushed to hospital following chest pains https://t.co/ZpfEnJUJov

— The Associated Press (@AP) January 14, 2016
Der 92-Jährige hatte mehrere Ministerposten inne und war zweimal Regierungschef in Israel. Von 2007 bis 2014 amtierte er als Staatspräsident. 1994 hatte er als Außenminister gemeinsam mit dem damaligen israelischen Ministerpräsidenten Izchak Rabin und PLO-Chef Jassir Arafat den Friedensnobelpreis erhalten.
12/10/1994: Nobel Peace Prize awarded Arafat, Peres, and Rabin "for efforts to create peace in the Middle East". pic.twitter.com/vPUFdLArLr

— Neshika (@Neshika_) December 10, 2015