Sir Terry Wogan, BBC-Stimme des Eurovision Song Contest, gestorben
Kommentare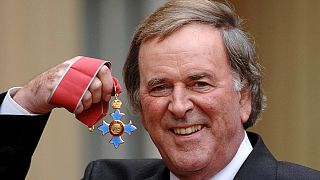 Der irisch-britische Radio- und TV-Moderator Sir Terry Wogan ist tot. Er starb im Alter von 77 Jahren "nach einem kurzen, aber mutigen Kampf gegen den Krebs", wie die BBC am Sonntag Wogans Familie zitierte. Der Entertainer aus Limerick hatte rund 50 Jahre lang Sendungen präsentiert, insbesondere für die BBC. Jahrelang war Wogan in seiner Heimat auch die Stimme des Eurovision Song Contest gewesen, den er von 1980 bis 2008 kommentierte. "Terry war wirklich ein nationales Kulturgut", sagte BBC-Generaldirektor Tony Hall. 2005 wurde er von der Queen zum Ritter geschlagen.
Seine Kommentare waren Kult, wie hier bei der Stimmabgabe beim Eurovision Song Contest 2008:
Die Eurovison bezeichnete ihn in einem Tweet als "zweifelsohne bemerkenswertesten Kommentator" des Song Contest:
We are deeply saddened by the passing of Terry Wogan (77). He was without doubt the most remarkable Eurovision commentator in history

— Eurovision (@Eurovision) January 31, 2016
Der britische Premierminister David Cameron twitterte:
1/2 My thoughts are with Terry Wogan's family. Britain has lost a huge talent – someone millions came to feel was their own special friend.

— David Cameron (@David_Cameron) January 31, 2016
"Großbritannien hat ein riesiges Talent verloren – jemanden, den Millionen als ihren eigenen besonderen Freund wahrnahmen".
Sad to hear of the passing of broadcasting legend Terry Wogan. Loved here in Ireland & by his millions of fans in Britain.

— Enda Kenny (@EndaKennyTD) January 31, 2016
Irlands Ministerpräsident Enda Kenny teilte mit: "Er wurde hier in Irland und von Millionen Fans in Großbritannien geliebt".
Zahlreiche Prominente drückten im Internet ihre Trauer aus. Der frühere James Bond-Darsteller Roger Moore twitterte: "Oh nein. Ein trauriges Wochenende".
Oh no. It's a sad weekend. BBC News – Sir Terry Wogan: Veteran broadcaster dies aged 77 https://t.co/5R4Fihzt5N

— Sir Roger Moore (@sirrogermoore) January 31, 2016
"Ein echter Gentleman, ein König der Radiowellen", schrieb der irische Sänger Ronan Keating.
Devastated to hear of the passing of Sir Terry Wogan. A true gentleman a king of the airwaves. Our thoughts are with his family. #ThanxTerry

— Ronan Keating (@ronanofficial) January 31, 2016
Der englische Musiker Yusuf/Cat Stevens nannte Wogan einen "ehrlichen und fröhlichen Mann".
Sad to hear of the passing of Terry Wogan. A genuine and joyous man.
Condolences to his family and friends, may he rest in peace.

— Yusuf / Cat Stevens (@YusufCatStevens) January 31, 2016
Der irische Komiker Dara O'Briain sagte, es sei schwierig in Worte zu fassen, was Wogan geleistet habe – "nicht nur im Rundfunk, sondern für die Iren in Großbritannien."
Terribly sad news about Terry Wogan dying. Hard to quantify what he achieved, not just in broadcasting, but for the Irish in Britain.

— Dara Ó Briain (@daraobriain) January 31, 2016
Mehr zum Thema
BBC: Sir Terry Wogan: Veteran broadcaster dies, aged 77
Eurovion.tv: Sir Terry Wogan dies, aged 77
Telegraph.co.uk: Terry Wogan is problem, says Eurovision chief (10. Mai 2008)