Rugby Highlight - Irland gegen Frankreich
Kommentare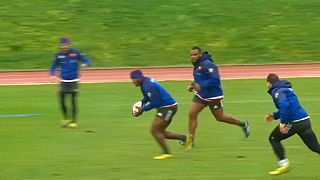 Die Runde eins des Six Nations Rugbyturniers ist gespielt, jetzt kommt es zum Auftakt der Runde zwei zum Match zwischen dem zweimaligen Titelverteidiger Irland und der Nummer zwei in der Bestenliste Frankreich.
#SixNations France ready to 'bleed for the shirt' against Ireland #FRAvIREhttps://t.co/fu8gozUYIgpic.twitter.com/uL2eu9oQ6h

— Belfast Telegraph (@BelTel) February 12, 2016
Für Irland könnte es schwer werden, obwohl sie aus den letzten fünf Begegnungen als Sieger verlassen haben – in Paris haben sie die Blauen seit 48 Jahren nicht geschlagen. Und die treten jetzt mit einem neuen Trainer an, der mit dem Sieg über Italien in der ersten Runde Rückenwind hat, während Irland gegen Wales nur ein Unentschieden erreicht hat.
Everything you need to know about Saturday's #SixNations clash between France and Ireland https://t.co/QWSdw1XPGgpic.twitter.com/ZboVULuuS9

— Indy Sport (@IndySport) February 12, 2016
Bei den Six Nations treten die Nationalmannschaften aus England, Frankreich, Irland, Italien, Schottland und Wales an, der Gewinner gilt als inoffizieller Rugby – Europameister.