Mexiko: "El Chapo" erhebt Foltervorwürfe
Kommentare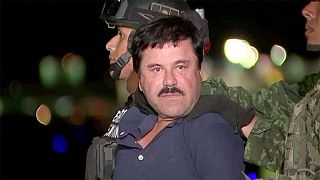 Der mexikanische Drogenboss Joaquín Guzmán, genannt "El Chapo" will möglichst schnell an die USA ausgeliefert werden. Sein Anwalt erklärte in einem Radiointerview, in Mexiko fürchte der frühere Chef des Sinaloa-Kartells um sein Leben.
Sein Mandant sei bei schlechter Gesundheit. Er werde im Hochsicherheitsgefängnis Altiplano mit Schlafentzug gefoltert.
"El Chapo" lawyer says Guzman wants U.S. extradition since Mexico guards won't let him rest https://t.co/Uzc2weBk66pic.twitter.com/ksg3sxnvUS

— Chicago Tribune (@chicagotribune) 2 mars 2016
Die USA hatten nach Guzmáns Festnahme in Mexiko seine Auslieferung beantragt.
Angeblich haben sich seine Gesundheitsprobleme in mexikanischer Haft verschlimmert
Common-law wife of "El Chapo" says his health problems have gotten "a lot worse" https://t.co/ut8AYpfh8bpic.twitter.com/E5lHwArGiT

—

CBS

News (@CBSNews) 1 mars 2016
Die US-Behörden werfen ihm unter anderem Mord, Drogenhandel, Bildung einer kriminellen Vereinigung und Geldwäsche vor.