Austin: Ein Todesopfer und drei Verletzte nach Schießerei im Zentrum
Kommentare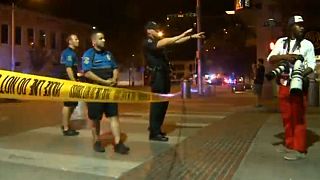 Im Zentrum der Stadt Austin in Texas hat mindestens ein Unbekannter das Feuer auf mehrere Menschen eröffnet. Es gibt mehrere Opfer.
Update: separate shootings within the same area. Both scenes are secure at this time. PIO responding to identify staging area.

— Austin Police Dept (@Austin_Police) July 31, 2016
Laut der Polizei gab es unweit des ersten Tatorts einen weiteren Schusswechsel. Unklar ist, ob die beiden Taten zusammenhängen. Nach Polizeiangaben wurde eine Frau getötet, drei Menschen kamen mit Schussverletzungen in Krankenhäuser. Ein vierter Verletzter habe die Behandlung verweigert. Die Hintergründe der Taten sind noch unklar. Einwohner von Austin waren zunächst aufgefordert worden, dem Innenstadtbereich fernzubleiben.
Active shooter incident downtown, multiple victims. Stay away from downtown. Media: Dont call for updates at this time, more to follow. PIO6

— Austin Police Dept (@Austin_Police) July 31, 2016
Die Tatorte wurden mittlerweile von der Polizei abgesichert. Die Beamten fahnden nach mindestens einem flüchtigen Täter.
#ieWorld | At least one dead, several injured in separate shootings in Austin: Policehttps://t.co/w243v6aYHupic.twitter.com/7zQHjSt7im

— The Indian Express (@IndianExpress) July 31, 2016
Die Polizei in Austin rief Augenzeugen auf, Videos zur Verfügung zu stellen.
If anyone has video or info specifically about the shooting on 6th street email APD at police3@austintexas.gov -PIO1

— Austin Police Dept (@Austin_Police) July 31, 2016