FBI ermittelt wegen neuer Clinton-E-Mails
Kommentare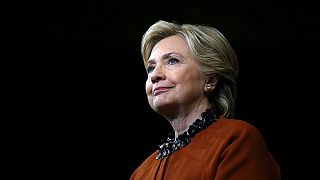 Das FBI will weitere E-Mails der demokratischen Präsidentschaftskandidatin Hillary Clinton untersuchen. Das teilte die Behörde in einem Brief an Abgeordnete mit. Darin heißt es, es seien im Zuge einer anderen Ermittlung weitere E-Mails von Clinton aufgetaucht, die vertrauliche Inhalte enthalten könnten. Es werde geprüft, ob dies für Clintons Fall eine maßgebliche Rolle spiele. Wie lange das dauern könne, sei unklar.
We must not let #CrookedHillary take her CRIMINALSCHEME into the Oval Office. #DrainTheSwamppic.twitter.com/GtPkj4xIz6

— Donald J. Trump (@realDonaldTrump) October 28, 2016
Here's why FBI Director James Comey made the Hillary Clinton email announcement now https://t.co/BrODhT7Fwh

— Newsweek (@Newsweek) October 28, 2016
Clinton hatte in ihrer Zeit als Außenministerin E-Mails auch über einen privaten und nicht gesicherten Server verschickt. Dies kann strafbar sein. Das FBI hatte seine Ermittlungen im Juli abgeschlossen
und empfohlen, keine Anklage gegen Clinton zu erheben.
Mit der Einstellung der Ermittlungen durch Justizministerin Loretta Lynch galt die Affäre als juristisch beendet, war aber politisch immer wieder ein Thema. Der republikanische Präsidentschaftskandidat Donald Trump drohte seiner Konkurrentin, im Fall seines Wahlsieges einen Sonderermittler einzusetzen und den Fall neu aufzurollen.
Donald Trump reacts to Hillary Clinton FBI probe: Don't let her in the Oval Office https://t.co/yzjY6xME3dpic.twitter.com/mhSJrsGo3U

—

CNN

Politics (@CNNPolitics) October 28, 2016
The FBI is reviewing new emails related to Hillary Clinton's time at the State Department, Director James Comey says https://t.co/Rast02zXVspic.twitter.com/jQO0sYQfkZ

—

CNN

Politics (@CNNPolitics) October 28, 2016