Die 15 besten Tweets zu Trump und Schweden
Kommentare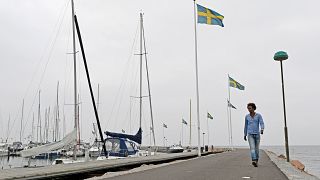 Nach der mysteriösen Anspielung des US-Präsidenten Donald Trump zu einem Anschlag oder ähnlichem, was vermeintlich in der Nacht in Schweden passiert sei, hatte der Verantwortliche des Twitter-Kontos des skandinavischen Landes eine schwierige Aufgabe. Tatsächlich wird der offizielle Twitter-Account jede Woche von einem anderen Schweden gemanagt. Und gerade ist es der 22-jährige Max Karlsson. Er blieb sehr cool und verwies auf die Fakten: "Viele Dinge ereignen sich die ganze Zeit. Aber nicht das, was Trump verbreitet." Unter anderem dieser Tweet hat dann eine Welle von Reaktionen ausgelöst.
Let's be clear: a lot happened #lastnightinsweden. Things happen all of the time. Just not the things realdonaldtrump</a> are spreading.</p>&mdash; sweden / Max (@sweden) 20. Februar 2017
Später imitierte Max aus Schweden noch Trumps Englisch.
The best of weeks. In fact, many people are saying this is the best week in the history of weeks. It's true. https://t.co/WwAYUNt97E

— sweden / Max (sweden) 20. Februar 2017
Aber Max liefert inzwischen über Twitter in der Diskussion mit Usern aus aller Welt auch Hintergrund-Wissen und klärt darüber auf, wie die Einwanderung sein Land geprägt hat.
For more info on how migration has shaped Sweden throughout history as well as now, visit link below.https://t.co/grnD5×2IP7pic.twitter.com/yKJ4Y9467j

— sweden / Max (sweden) 21. Februar 2017
Einige Schweden sind überzeugt – dank Trump hätten sie den Wettbewerb, wer hinter AMERICAFIRST Zweiter wird gewonnen. Auf der Seite des Satiriker Jan Böhmermannn, der die Videos zusammentragen wollte, gibt es zur Zeit allerdings keinen offiziellen Beitrag von Schweden.
Thank you Mr President for making it Sweden second! #lastnightinswedenpic.twitter.com/MnZ7rAYmjo

— Aron Anderson (@aronanderson) February 20, 2017
Auf Twitter ist gleich eine ganze Reihe von Hashtags im Umlauf – in Anspielung auf Trump und Schweden wie #LastNightInSweden und #JeSuisIKEA.
So bietet Schweden Trump Hilfe beim Mauerbau an.
#BREAKINGNEWS After #LastNightInSweden, the country offers to help realDonaldTrump</a> with his <a href="https://twitter.com/hashtag/BorderWall?src=hash">#BorderWall</a>. <a href="https://t.co/vrEZCR7gEW">pic.twitter.com/vrEZCR7gEW</a></p>&mdash; Joe C (Joe_C_London) February 19, 2017
Never forget. #JeSuisIKEA#lastnightinsweden#swedenincident#Sweden#DonaldTrumppic.twitter.com/BBCHlhlMJT

— Jeff (@lontransitgeek) 20. Februar 2017
Always forget what never happened in Sweden!! Such Untragic events, they'll fornever stay in history!! #JeSuisIKEA#lastnightinswedenpic.twitter.com/b1yBc9stZo

— Rafaela Kostaki (@rafaela_kostaki) 20. Februar 2017
Verdächtige werden festgenommen.
#swedenincident Main suspect in Bowling green massacre captured by Swedish police #lastnightinsweden , thanks to tip from realDonaldTrump</a> <a href="https://t.co/O9XAPElcdk">pic.twitter.com/O9XAPElcdk</a></p>&mdash; Madra David (madradavid) February 19, 2017
According to #WhiteHouseIntelligence four were arrested #lastnightinsweden after yuge fashion massacre a few years ago. pic.twitter.com/Ehcwt86uWp

— Marcelo Diaz (@marce_162) February 19, 2017
Grausame Szenen werden gezeigt.
Pray for Sweden. #LastNightInSweden#SwedenIncidentpic.twitter.com/cZmOW2pXm7

— MadlyMad (@Madly_Mad) February 19, 2017
Last night in Sweden.#lastnightinsweden#JeSuisIKEA#trumpswedenpic.twitter.com/3xGdLR1lnk

— Fake Victor Stoddard (@VicStoddard) February 20, 2017
Die schwedischen Kinderbuch-Klassiker dürfen nicht fehlen.
#LastNightinSweden wurde der Ort Lönneberga Schauplatz eines Terrorangriffs.
Der Täter konnte bereits identifiziert werden: Michel aus L. pic.twitter.com/T3exoizsW0

— Reizklima (@Reizklima) February 19, 2017
+ EILMELDUNG + Achtung Achtung!!! + Schwedische Drohne über Washington gesichtet!!! + #LastNightinSwedenpic.twitter.com/oAVm4yd9Bb

— Emma (@EmilyPrentiss09) February 19, 2017
#Trump was right! Proof of massive youth violence #lastnightinSwedenpic.twitter.com/ilNsx48FXo

— Fabian Köhler (@fabikde) February 19, 2017
Dieser Tweet zeigt die Massenimmigration aus dem Norden.
#lastnightinsweden : Mass immigration from the north, due to global warming. pic.twitter.com/fJ8nMLKREP

— Jens (@tongotongoz) February 19, 2017