Trump in Puerto Rico: "Mit 16 Toten könnt Ihr sehr stolz sein. 16 gegen Tausende"
Kommentare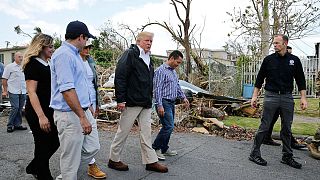 Fast zwei Wochen ist es her, dass Hurrikan "Maria" eine Schneise der Verwüstung durch Puerto Rico schlug. Jetzt ist US-Präsident Trump in das Katastrophengebiet gereist. Viel zu spät, finden viele Puerto Ricaner. Sie fühlen sich von Washington im Stich gelassen. Und Trump streute noch Salz in die Wunde. Maria sei vergleichsweise doch gar nicht so schlimm gewesen.
"Was in Sachen Lebensrettung passiert ist, ist toll. 16 Tote, das ist viel. Aber wenn man es mit den Tausenden Todesopfern anderer Hurrikans wie Katrina vergleicht, ist es doch nicht mal annäherungsweise so ernst. (…) 16 Tote gegen Tausende. Ihr könnt stolz sein", so Trump bei seinem Blitzbesuch Puerto Rico.
Worte, die der Präsident an Menschen richtete, denen es immer noch am Nötigsten fehlt: an Strom, Lebensmitteln, Wasser und Benzin. Puerto Rico ist zwar kein Bundesstaat, aber das größte Außengebiet der USA. Die Puerto Ricaner sind US-Bürger. Scharfe Kritik an Trumps mangelnder Hilfsbereitschaft kam aus der Hauptstadt San Juan. "Wir sterben hier und ihr tötet uns mit eurer Ineffizienz", so ihr Vorwurf der Bürgermeisterin an das Weiße Haus.
Nothing to see here,only Trump throwing toilet paper to people in PuertoRico,after blaming state for hitting budget pic.twitter.com/wUITNTbVRj

— Tancredi Palmeri (@tancredipalmeri) 3. Oktober 2017
Trump warf bei seinem Blitzbesuch Klopapierrollen in die Menge. Kurz vor seiner Reise hatte er Puerto Rico auf Twitter übertriebene Ansprüche gegenüber Washington vorgeworfen.
…Such poor leadership ability by the Mayor of San Juan, and others in Puerto Rico, who are not able to get their workers to help. They….

— Donald J. Trump (@realDonaldTrump) 30. September 2017
…want everything to be done for them when it should be a community effort. 10,000 Federal workers now on Island doing a fantastic job.

— Donald J. Trump (@realDonaldTrump) 30. September 2017