State of the Union: EU fordert Trump heraus
Kommentare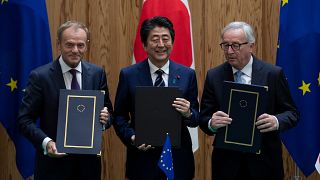 In dieser Ausgabe von State of the Union, unserem Wochenrückblick aus Brüssel, geht Moderator Stefan Grobe ganz der Frage nach, wie Europa Donald Trump herausgefordert hat.
Zunächst gewann Frankreich die Fußball-Weltmeisterschaft mit einer Mannschaft, die zumeist von Einwanderern abstammt – ganz entgegen Trumps Meinung, die Einwanderung zerstöre Europa.
Dann ordnete die EU-Kommission das Rekord-Bußgeld von 4,3 Milliarden Euro für Google an, weil der Internet-Riese mit seinem Betriebssystem Android Wettbewerber blockiert. Trump war außer sich vor Wut.
Schließlich besiegelten die EU und Japan eine gemeinsame Handelszone und nahmen damit entschieden gegen den von Trump entfachten Protektionismus Stellung.