Seoul: Soldat aus Nordkorea übergelaufen
Kommentare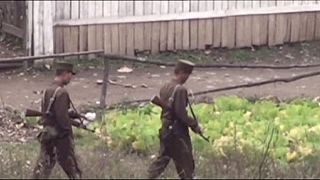 Einem mutmaßlich nordkoreanischen Soldaten ist nach eigenen Angaben die Flucht über die schwer bewachte Grenze nach Südkorea gelungen.
Das südkoreanische Verteidigungsministerium erklärte, der Soldat habe die Grenze nordöstlich der Hauptstadt Seoul überquert und sich in der vier Kilometer breiten demilitarisierten Zone gestellt.
A teenaged North Korean soldier defected to #SouthKorea by walking across the DMZ. #NorthKoreahttp://t.co/a1sIGBSPUxpic.twitter.com/SDDuYiBmbo

— KoreAm (@KoreAm) 15 Juin 2015
Der mutmaßliche Überläufer gab an, 19 Jahre alt und Gefreiter der Volksarmee zu sein.
.