12 Nominierungen: Mit "The Revenant" winkt DiCaprio 1. Oscar
Kommentare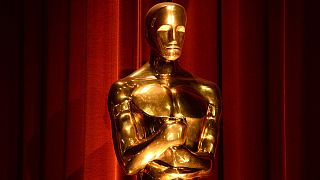 Die Academy of Motion Picture Arts and Sciences (AMPAS) hat in Los Angeles die Nominierungen für die 88. Oscar-Verleihung bekanntgegeben.
Heraus stach das "Rachedrama "The Revenant – Der Rückkehrer"":http://de.euronews.com/2016/01/08/the-revenant-leonardo-dicaprio-als-raecher-in-der-wildnis/, das für gleich zwölf Kategorien benannt wurde. Für den ebenfalls nominierten Hauptdarsteller Leonardo DiCaprio birgt "The Revenant" die Chance auf seinen ersten Oscar.
This year's #oscarnoms go to big-budget, big-spectacle, lily-white films https://t.co/HT4oAUl8bT

—

WIRED

(@WIRED) January 14, 2016
In zehn Kategorien geht das Endzeitspektakel "Mad Max: Fury Road" ins Rennen um die wichtigsten Filmpreise.
Oscar Nominations have been announced, and The Revenant, Mad Max and The Martian dominate: https://t.co/BEQpFCkmQlpic.twitter.com/2i3dXSmmE1

—

IGN

(@IGN) January 14, 2016
Ebenfalls als bester Film nominiert wurde "Der Marsianer – Rettet Mark Watney" mit Matt Damon, der mit DiCaprio, Michael Fassbender, Eddie Redmayne und Bryan Cranston als bester Hauptdarsteller konkurriert.
#TheMartian: Ridley Scott on the secret to getting the best out of actors https://t.co/KIvHkTX3eVpic.twitter.com/2VbGk0B0At

— Variety (@Variety) January 14, 2016
In die Königskategorie hat es auch die deutsche Koproduktion "Bridge of Spies: Der Unterhändler" von Steven Spielberg geschafft.
Auch ein deutscher Filmemacher freute sich riesig über seine Oscarnominierung: "Es ist ein wahnsinnig überwältigendes Gefühl", sagte Patrick Vollrath aus Bad Grund am Harz. Der Jungregisseur sei "einfach glücklich". Mit seinem Werk "Alles wird gut" ist der 30-jährige Niedersachse einer von fünf Anwärtern in der Sparte "Live-Action-Kurzfilm".
German Patrick Vollrath's 'live action short film' EVERYTHINGWILL BE OK receives #Oscar2016 nomination https://t.co/29rTLWD6IW

— Andy Eckardt (@ameckardt) January 14, 2016
Die Oscars werden am 28. Februar in Los Angeles verliehen.
Hier die komplette Liste der Nominierungen
Breaking news: #OscarNoms announced. https://t.co/JzXl4tOM4f

— The Academy (@TheAcademy) January 14, 2016