Status-Quo-Musiker Rick Parfitt gestorben
Kommentare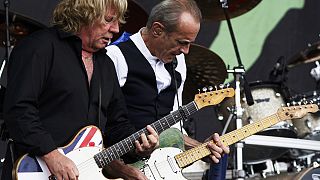 Der Status-Quo -Musiker Rick Parfitt ist tot. Der Gitarrist starb im Alter von 68 Jahren, wie der Manager der Band auf der Facebook-Seite der britischen Rocker mitteilte. Demzufolge verstarb der Sänger, Gitarrist und Komponist am Samstag im spanischen Marbella an den Folgen einer Infektion. Zunächst habe er sich wegen Schmerzen in der Schulter behandeln lassen.
Rick Parfitt 1948 – 2016

Statement from The Parfitt Family & Status Quo Manager, Simon Porter: https://t.co/j9jtskvKAE

— Status Quo (@Status_Quo) December 24, 2016
Parfitts musikalische Zusammenarbeit mit seinem Bandkollegen Francis Rossi hielt rund fünf Jahrzehnte an. Bekannte Hits der Gruppe sind "Whatever You Want", "In the Army now" oder auch "Rockin' All Over the World". Musiker-Kollegen, so etwa der Leadgitarrist der Rockband Queen, verliehen ihrer Bestürzung auf den Seiten der sozialen Netzwerke Ausdruck.
Shocked and so sad to hear of the passing of Rick Parfitt. Hard to find words. You truly joyfully rocked our world. RIP dear buddy. Bri

— Dr. Brian May (@DrBrianMay) December 24, 2016