Volvo Ocean Race nimmt wieder Fahrt auf
Kommentare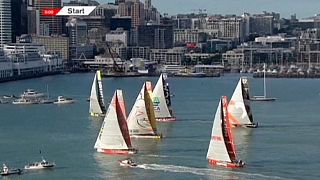 Das Volvo Ocean Race geht weiter: Die Weltumsegler sind endlich zur fünften Etappe aufgebrochen. Der Start war wegen des Tropensturms "Pam" um drei Tage verzögert worden.
The #VOR fleet finally left Auckland, setting off on Leg 5 to Itajaí. Full story: http://t.co/9urfiAnEuvpic.twitter.com/BCLo3625S4

— Volvo Ocean Race (@volvooceanrace) March 17, 2015
Charles Caudreliers Dongfeng Race Team führte die Flotte aus dem Hafen. Die Teams starteten in der neuseeländischen Hauptstadt Auckland. 6776 Seemeilen liegen nun vor ihnen. Sie werden in rund drei Wochen in der brasilianischen Hafenstadt Itajaí erwartet. Die Etappe führt auch am berüchtigten Kap Horn vorbei.
They've waved Auckland goodbye, and wrote their first blogs for Leg 5: http://t.co/H4pnOz0cXV#VORpic.twitter.com/OJvwIyStle

— Volvo Ocean Race (@volvooceanrace) March 18, 2015
Check out our online galleries for Leg 5, with fresh photos from the boats! http://t.co/CZrvWtjcIU#VORpic.twitter.com/Wd3yOXEL70

— Volvo Ocean Race (@volvooceanrace) March 18, 2015