Clinton: "Trump von Diktatoren angezogen"
Kommentare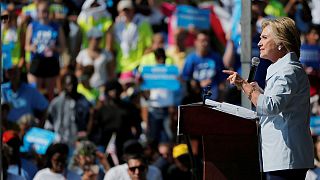 Die Präsidentschaftskandidatin der US-Demokraten, Hillary Clinton, hat erneut die Fähigkeit ihres Gegners Donald Trump in Frage gestellt, die USA außenpolitisch überhaupt vertreten zu können.
Im Flugzeug von einem Wahlkampfauftritt zum nächsten sagte Clinton über Trump: "Er hat sich schon sehr früh Putin angenähert. Diese Idee, aus der NATO auszusteigen, um Himmels willen. Er fühlt sich auf diese bizarre Weise von Diktatoren angezogen, inklusive Putin."
#LaborDay#AmericaFirst
Video: https://t.co/RNl7cfzkmNpic.twitter.com/ZqRtbV4KRI

— Donald J. Trump (@realDonaldTrump) September 5, 2016
Letzten Umfragen zufolge liegt Hillary Clinton vor Donald Trump und ist bei weiten Teilen der Bevölkerung beliebter.
We have a new Tumblr</a>! Check out letters to Hillary from Americans around the country at <a href="https://t.co/gmfVm5q0si">https://t.co/gmfVm5q0si</a> <a href="https://t.co/0LOja02ENX">pic.twitter.com/0LOja02ENX</a></p>&mdash; Hillary Clinton (HillaryClinton) September 4, 2016
Donald Trump hat allerdings auf seiner Twitterseite auch eine Umfrage veröffentlicht, in der er vorne liegt. Die unterschiedlichen Umfragen widersprechen sich zum Teil. Es ist also noch lange nicht entschieden, wer im November nach Barack Obama im Weißen Haus einzieht.
Heading to Youngstown, Ohio now- some great polls. #AmericaFirstpic.twitter.com/cGwDLSOFUt

— Donald J. Trump (@realDonaldTrump) September 5, 2016