Südafrikas Rugbylegende Joost van der Westhuizen nach langer Krankheit gestorben
Kommentare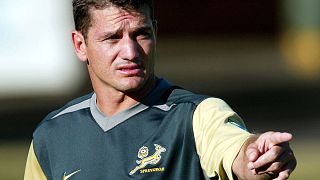 Der ehemalige Kapitän der südafrikanischen Rugby-Nationalmannschaft Joost van der Westhuizen ist im Alter von 45 Jahren in Johannesburg gestorben.
2011 wurde bei Van der Westhuizen die unheilbare Nervenkrankheit ALS diagnostiziert.
The #AllBlacks extend their sympathies to the family of Joost van der Westhuizen. A true Springboks</a> great. You will be missed.<a href="https://twitter.com/hashtag/RIPJoost?src=hash">#RIPJoost</a> <a href="https://t.co/KEEwdZ8NWS">pic.twitter.com/KEEwdZ8NWS</a></p>— All Blacks (AllBlacks) 6. Februar 2017
Er nahm an den Weltmeisterschaften 1995, 1999 und 2003 teil, wobei die Springböcke 1995 bei ihrer ersten Teilnahme gleich den Weltmeistertitel gewinnen konnten.
Unter anderem sorgte sein Tackling gegen den Neuseeländer Jonah Lomu für den Sieg über die All Blacks im Finale.
Seine angriffsorientierte Spielweise zeichnete ihn aus, 38 Trys hat Van der Westhuizen in 89 Länderspielen gelegt, dass ist bis heute Rekord.
RIP Joost van der Westhuizen, 1971-2017. Condolences to the family and friends of a true Springbok hero. pic.twitter.com/ZZ7IBEBcyE

— South African Rugby (@Springboks) 6. Februar 2017
Im Anschluss an die Weltmeisterschaft 2003 beendete er seine Karriere als Rekordnationalspieler seines Landes. 2014 wurden seine Leistungen wurden mit der Aufnahme in die International Rugby Hall of Fame ausgezeichnet.