Krieg in der Ukraine: Putin wütend wegen Nachricht von Selenskyj?
Kommentare
Von Euronews mit THE TIMES, Financial Times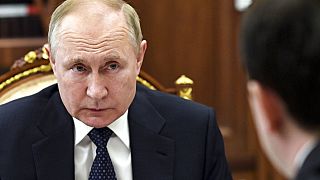 Copyright

Mikhail Klimentyev/Sputnik

-
Der russische Oligarch Roman Abramowitsch - dessen Mutter aus der Ukraine stammt - soll Wladimir Putin eine handschriftliche Nachricht des ukrainischen Präsidenten überbracht haben. Allerdings hat Russlands Staatschef laut einem Bericht der TIMES sehr wütend auf die Vorschläge von Wolodymyr Selenskyj für einen Waffenstillstand reagiert und an die Adresse der Ukrainer gesagt: "Ich werde sie verprügeln". Welche Vorschläge der ukrainische Präsident tatsächlich macht, hat die britische Zeitung nicht erfahren.
Die FINANCIAL TIMES meldet unterdessen, dass Russland bei den Friedensgesprächen die "Entnazifizierung" der Ukraine nicht mehr als Bedingung für einen Waffenstillstand in der Ukraine stellt. Dabei war der Kampf gegen ukrainische Nazis eine der Hauptbegründungen für den Einmarsch Russlands.
Russlands Verteidigungsminister Sergei Schoigu ist wieder aufgetaucht. Laut THE TIMES ist der Putin-Vertraute in den vergangenen Wochen zwischen Atombunkern im Osten der russischen Hauptstadt und Moskau mehrmals über 1.000 Kilometer hin- und hergereist.
Moskaus Militärführung hat am Dienstag angekündigt, dass die militärischen Operationen um Kiew und Tschernihiw reduziert werden. Die ukrainische Armee und Wolodymyr Selenskyj halten diese Ankündigung allerdings für ein Täuschungsmanöver, das in die Irre führen solle.
Roman Abramowitsch, der offenbar als inoffizieller Vermittler für den Kreml fungiert, soll schon am Donnerstag von der Türkei aus mit seinem Privatjet zu dem Treffen mit Wladimir Putin nach Russland geflogen sein.
Zu den Berichten über einen Vergiftungsversuch von Roman Abramowitsch schreibt THE TIMES, dass dieser "vielleicht" stattgefunden habe.
Anders als Großbritannien haben die USA Roman Abramowitsch nicht auf ihre Sanktionsliste gesetzt, nachdem Präsident Selenskyj laut Washington Post versichert habe, dass der russische Geschäftsmann für einen Waffenstillstand nützliche Dienste leisten könne.
Russischer Angriffskrieg in der Ukraine